The common characteristic shared by condominiums, townhomes, and planned unit developments is that the ownership of the home also involves the undivided ownership with other owners in the community of common areas. Examples of common areas are community roads, parking lots, community centers, fitness facilities, and/or swimming pools.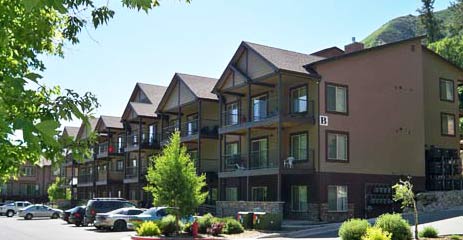 The common areas ownership in a condominium community are the most extensive, because they involve the entire lot area and all the structures, including the building in which the homes are located. When you buy a condominium you are buying  an undivided interest with the other owners in the community of everything in the community in addition to the ownership of the space inward from the paint, plywood under the flooring, and the ceiling in your unit.
A townhome style community has units that are either side by side or freestanding. A Townhome style home does not have other units above or below and typically has a garage on the lower level. Some townhome style homes are located in communities that are legally condominiums; in these communities, the individual owners do not own the land under their unit.
The ownership of a "true townhome"   involves owning the land under your unit coupled with an undivided interest in the common areas. The big benefit to buying in a "true townhome" community is that lenders do not apply condominium rules, which generally makes them more marketable and valuable.
The two major lender condominium rules that render most condominium communities in the Durango area ineligible from low down payment fixed-rate financing are the owner-occupancy and vacation rental requirements. Government sponsored and guaranteed loan programs generally require that less than 50% of the homes in the community are being rented and that vacation rentals are not allowed. Most of our local condominium communities do not meet these requirements, so buyers have to obtain financing from local banks with 20% or more down-payment on an adjustable loan.

Developers build communities of free-standing townhomes in order to build more detached homes than would normally be allowed due to minimum lot sizes required by the building department. These homes are sometimes referred to as "patio homes" because the yards are essentially large patios. The land ownership involves the lot under the home and the small yard area.
Planned unit developments look like regular subdivisions of stick-built homes on normal size individual lots; but also involve the undivided interest in common areas with the other owners in the community. These homes typically are on standard size residential lots with normal sized back yards.
When starting the home-buying process, it's important that you choose a real estate broker and lender who understand the different types of communities and the financing limitations so you won't view homes that are not eligible for the financing you need or want.
Steve Setka