The National Trust for Historic Preservation, the country's largest private, nonprofit preservation organization, named Durango to its 2007 list of America's Dozen Distinctive Destinations, describing  Durango as a "lovingly preserved" community. Downtown Durango has a rich and colorful history.  Most homes in the Historic Area were built in the 1800's and are craftsman style homes.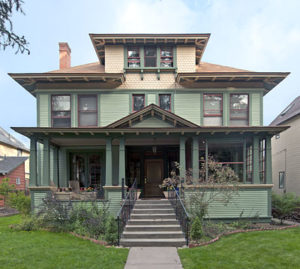 DISTANCE TO DURANGO CITY LIMITS:

1- 8 bocks

AGE OF HOMES:

1881 to 1954

PAVEMENT:

All streets paved

VALUE RANGE:

$250,000 (small fixer) to $1,275,000
$401,000 average

SIZE OF LOTS:

3500 to 7500 square feet

SCHOOLS:

Durango 9R Unified, Animas High School and Mountain Middle School (Charter Schools)

HOA DUES:

N/A

UTILITIES:

COMMUNITY AMENITIES:

BENEFITS:

Walking distance to downtown
Prestigious section of town
Beautiful old world architecture

CONCERNS:

Many of the homes need updating (systems and structural)
Most of the homes are on small lots
Homes in the lower end of the price range are very small
This area has the most expensive real estate in the county
Older homes do not have modern floor plans – small closets, bedrooms, etc.